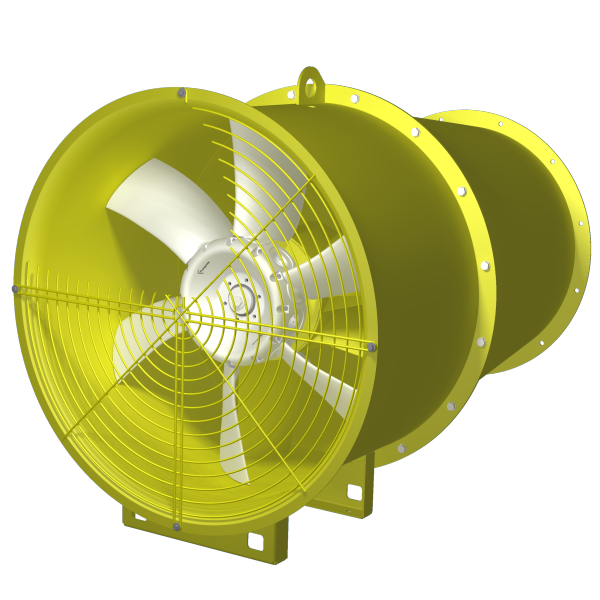 Axial fans designed for free air discharge over long distances. Equipped with inlet cone and safety net on the inlet, outlet cone, feet fixed to the body. Suitable for outdoor use. Weatherproof.
Available in diameters: Ø630 and Ø800mm.
Operating temperatures: from -20 to +55°C
Rotor material: blades and hub – aluminium.
Installed motor powers: 3.0 – 7.5kW
Motor speed: 1500min-1
Motors fitted with closed bearings, maintenance-free.
Motors fitted as standard for speed control by means of a frequency converter.
Enclosures fitted with a rear guide,
Corrosion protection of the housing – powder coating.
Special/optional executions:
explosion-proof,
other diameters, min Ø400mm, max Ø1850mm.
Impeller:
Blades and hub made of die-cast aluminium
Highly efficient blades with special sickle shape for low noise levels
Lower energy consumption while maintaining the best flow characteristics
Dynamically balanced to class G-6.3 according to ISO 1940-1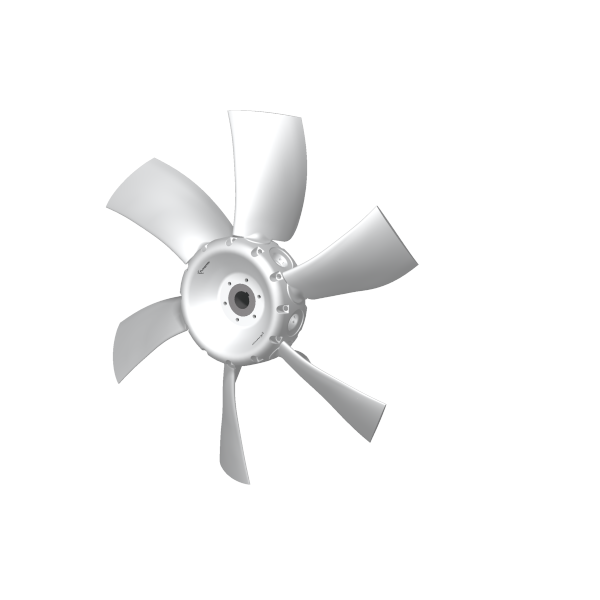 Motor:
3 phase, asynchronous;
Supply voltage: 3~ 230/400V; 400/690V
Efficiency class : IE3
Insulation class: F
Degree of protection: IP 55,
Motor body in cast aluminium or cast iron.
Motor optional execution:
Supply voltage: 440V, 460V,
Supply frequency: 60Hz,
Efficiency class: IE 4,
Motor insulation class: H,
Degree of protection: IP 56, IP66,
Winding temperature sensors,
Bearing temperature sensors.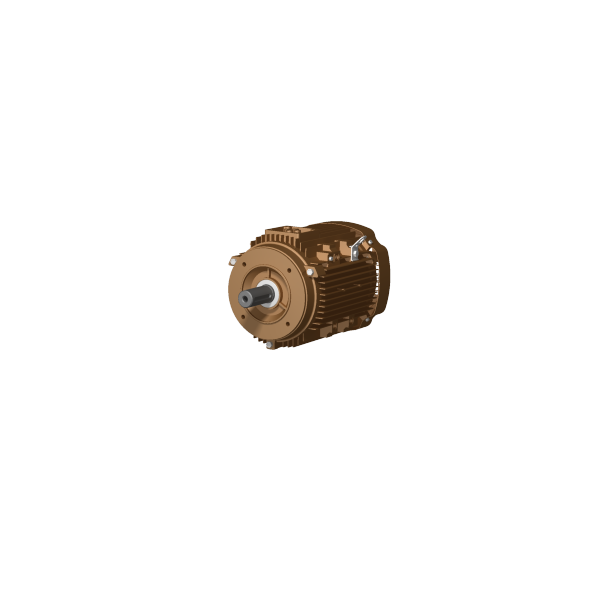 Housing:
Perfectly round, machined from structural sheet steel. Equipped on the inlet side with an inlet confuser (inlet funnel), on the outlet side with a flange fitted with connecting holes. Funnel and flange rolled from body shell.
Equipped with a welded engine seat and rear wheel.
Inlet protected by mesh as standard. Outlet additionally equipped with a confuser to accelerate the jet.
Protected against corrosion by powder coating. Painted in colour: RAL 1016 (sulphur yellow).
Housing optional:
housing made of stainless steel, grade 1.4301
aluminium housing.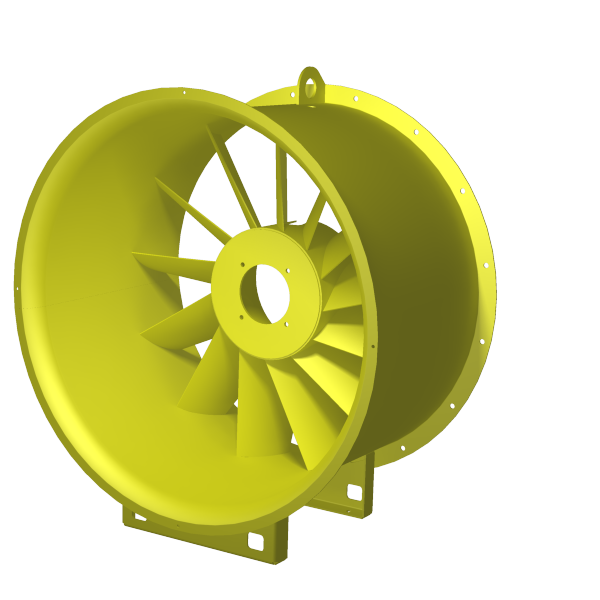 Specification
Nr
kat.
Type
fan
Motor power [kW]
Current at 1~230V [A]
Current at 3~400V [A]
Speed [min -1]
Maximum capacity [m3/h]
Maximum total pressure [Pa]
Sound level [dB(A)]*
Mass [kg]**

200

KML630/3,0-4/6

3,00

-

6,02

1435

22700

360

82

136

Wybierz

201

KML630/4,0-4/6

4,00

-

7,95

1440

25400

350

82

148

Wybierz

202

KML800/5,5-4/6

5,50

-

10,68

1460

33630

565

91

165

Wybierz

203

KML800/7,5-4/6

7,50

-

14,26

1460

40000

610

92

176

Wybierz
Dimensions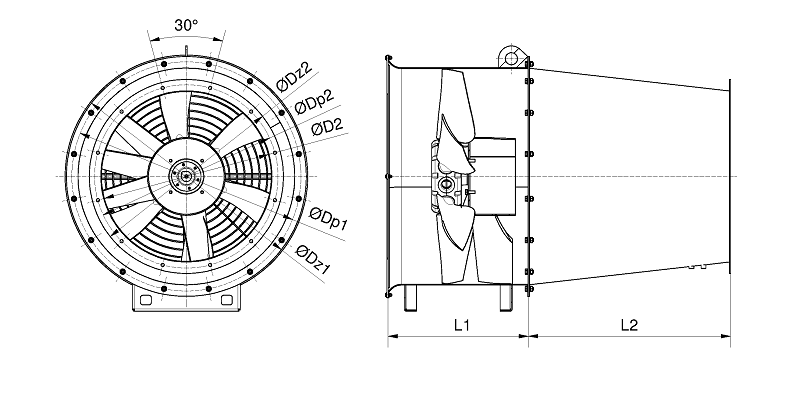 | Catalogue number | Fan type | D1 | D2 | L1 | L2 | ØDp1 | ØDp2 | ØDz1 | ØDz2 | n1 x Ød1 | n2 x Ød2 |
| --- | --- | --- | --- | --- | --- | --- | --- | --- | --- | --- | --- |
| 200 | KML630/3,0-4/6 | 630 | 500 | 525 | 750 | 680 | 550 | 720 | 590 | 16x12 | 12x12 |
| 201 | KML630/4,0-4/6 | 630 | 500 | 525 | 750 | 680 | 550 | 720 | 590 | 16x12 | 12x12 |
| 202 | KML800/5,5-4/6 | 800 | 630 | 525 | 750 | 850 | 680 | 890 | 720 | 16x12 | 12x12 |
| 203 | KML800/7,5-4/6 | 800 | 630 | 525 | 750 | 850 | 680 | 890 | 720 | 16x12 | 12x12 |