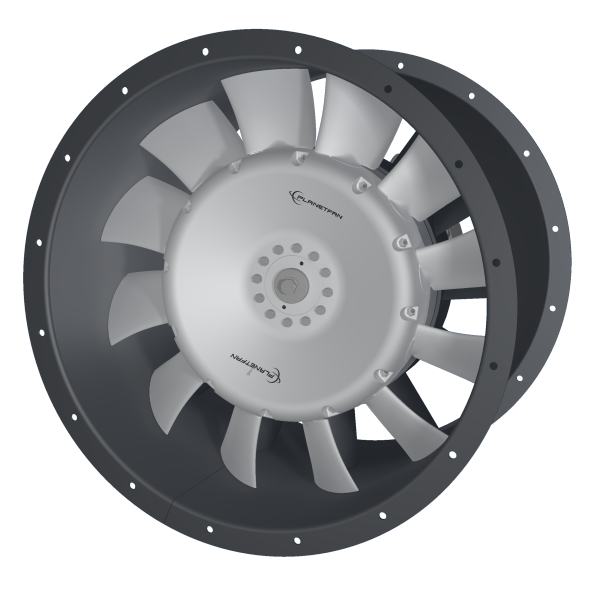 Axial duct fans, medium pressure. Equipped on both sides with flanges for mounting them in general ventilation – duct systems. Provide high efficiencies at higher pressures than the standard "K" series. Suitable for ventilation of industrial, commercial and large premises.
Available in diameters: Ø400 – 1000mm.
Working temperatures: from -20 to +55°C
Installed motor powers: 0.25 – 45kW
Capacity range: 300 – 100500m3/h
Motor speeds: 3000, 1500, 1000 min-1
Motors fitted with closed bearings, maintenance-free.
Motors adapted as standard for speed control by means of a frequency converter
Enclosures fitted with a rear guide
Housing protected against corrosion – powder coating
Special/optional executions
explosion-proof
high temperature max: 120°C
Impeller:
Blades and hub made of die-cast aluminium
Highly efficient blades with special sickle shape for lower noise levels
Lower energy consumption while maintaining the highest flow parameters
Dynamically balanced to class G-6.3 according to ISO 1940-1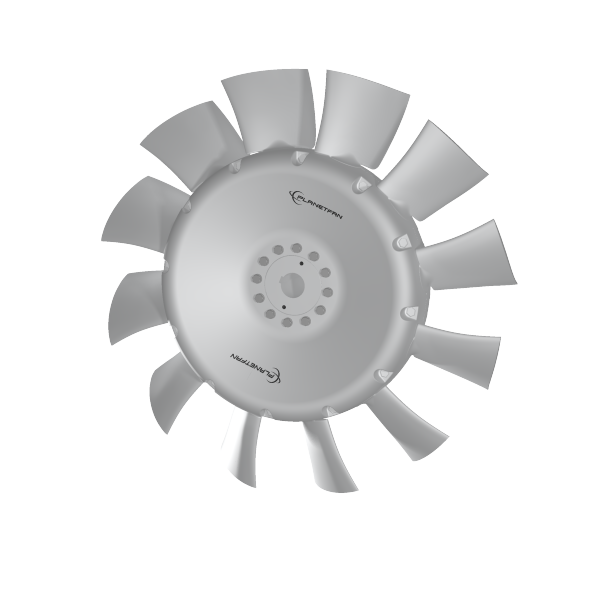 Housing:
Perfectly round, machined from structural steel sheet. Fitted on both sides with body shell rolled flanges having connection holes.
Fitted with welded engine seat and rear handlebar.
Protected against corrosion by powder coating. Painted in colour: RAL 7035 (light grey).
Housing optional:
Corrosion protection by hot-dip galvanising,
Housing made of stainless steel, grade 1.4301,
Aluminium enclosure,
Inspection hatch,
Painted in a different RAL colour,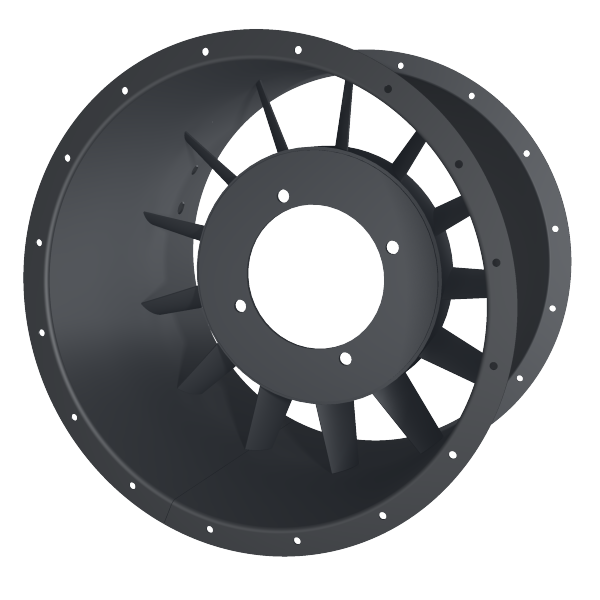 Motor:
Asynchronous 1 or 3 phase;
Supply voltage: 1~ 230V; 3~ 230/400V; 400/690V
Efficiency class : IE3
Insulation class: F
Degree of protection: IP 55,
Motor body in cast aluminium or cast iron.
Motor optional execution:
Supply voltage: 440V, 460V, 500V, 1000V
Supply frequency: 60Hz,
Efficiency class: IE 4,
Motor insulation class: H,
Degree of protection: IP 56, IP66,
Winding temperature sensors,
Bearing temperature sensors.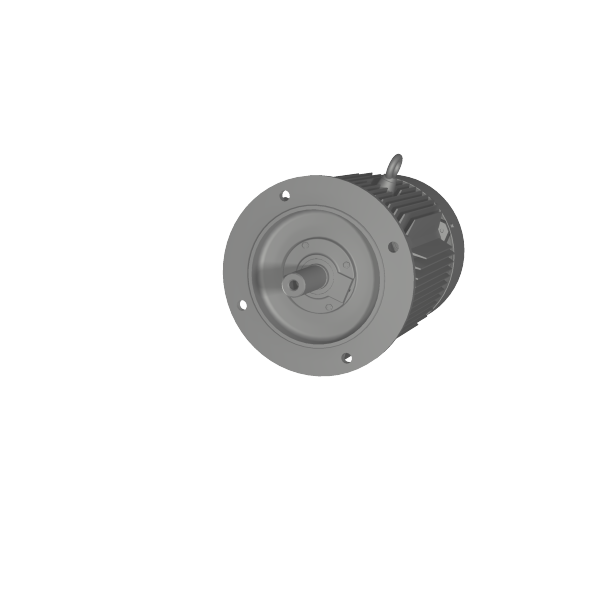 Specification
Nr
kat.
Type
fan
Motor power [kW]
Current at 1~230 V [A]
Current at 3~400V [A]
Speed
[min -1]
Maximum capacity [m3/h]
Maximum total pressure [Pa]
Sound level [dB(A)]*
Mass [kg]**

100

KM400/0,25-4/9

0,25

1,5

-

1420

4800

175

78

29

Wybierz

101

KM400/0,37-4/9

0,37

2,2

-

1440

5600

159

78

29

Wybierz

102

KM400/1,5-2/9

1,50

-

3,06

2895

7900

595

88

35

Wybierz

103

KM400/2,2-2/9

2,20

-

4,35

2895

9700

730

89

38

Wybierz

104

KM400/3,0-2/9

3,00

-

5,71

2895

11250

638

89

45

Wybierz

105

KM450/0,37-4/9

0,37

2,2

-

1440

6090

200

79

32

Wybierz

106

KM450/0,55-4/9

0,55

3

-

1430

7650

205

79

33

Wybierz

107

KM450/0,75-4/9

0,75

-

1,75

1420

8900

195

80

35

Wybierz

108

KM450/2,2-2/9

2,20

-

4,35

2895

10000

760

89

41

Wybierz

109

KM450/3,0-2/9

3,00

-

5,71

2895

12300

810

90

47

Wybierz

110

KM450/4,0-2/9

4,00

-

7,45

2905

14050

815

90,5

64

Wybierz

111

KM500/0,75-4/12

0,75

-

1,75

1420

8700

295

81

40

Wybierz

112

KM500/1,1-4/12

1,10

-

2,48

1445

10800

348

82

44

Wybierz

113

KM500/5,5-2/12

5,50

-

10,11

2930

15500

1100

90

71

Wybierz

114

KM500/7,5-2/12

7,50

-

13,65

2930

19000

1280

91

77

Wybierz

115

KM500/11,0-2/12

11,00

-

19,56

2945

24000

1425

93

142

Wybierz

116

KM560/1,1-4/12

1,10

-

2,48

1445

11000

315

81

48

Wybierz

117

KM560/1,5-4/12

1,50

-

3,3

1445

13500

355

81

52

Wybierz

118

KM560/2,2-4/12

2,20

-

4,52

1435

15900

375

82

59

Wybierz

119

KM560/3,0-4/12

3,00

-

6,02

1435

19000

390

82

59

Wybierz

120

KM560/11,0-2/12

11,00

-

19,56

2945

24500

1460

94

146

Wybierz

121

KM630/2,2-4/12

2,20

-

4,52

1435

16600

440

81

68

Wybierz

122

KM630/3,0-4/12

3,00

-

6,02

1435

19500

505

82

68

Wybierz

123

KM630/4,0-4/12

4,00

-

7,95

1440

22050

550

82

80

Wybierz

124

KM630/18,5-2/12

18,50

-

32,47

2940

33000

1780

95

185

Wybierz

125

KM630/22,0-2/12

22,00

-

38,49

2955

36000

1990

96

225

Wybierz

126

KM710/4,0-4/12

4,00

-

7,95

1440

22800

530

86

85

Wybierz

127

KM710/5,5-4/12

5,50

-

10,68

1460

29000

605

87

97

Wybierz

128

KM710/7,5-4/12

7,50

-

14,26

1460

33000

625

89

108

Wybierz

129

KM710/9,2-4/12

9,20

-

17,6

1460

38000

645

90

141

Wybierz

130

KM800/2,2-6/12

2,20

-

5,09

955

23000

315

81

97

Wybierz

131

KM800/3,0-6/12

3,00

-

6,84

968

27000

370

82

108

Wybierz

132

KM800/4,0-6/12

4,00

-

8,99

968

32500

395

83

114

Wybierz

133

KM800/7,5-4/12

7,50

-

14,26

1460

35000

725

92

125

Wybierz

134

KM800/9,2-4/12

9,20

-

17,6

1460

38000

815

92

158

Wybierz

135

KM800/11,0-4/12

11,00

-

20,44

1465

43000

875

93

186

Wybierz

136

KM900/4,0-6/12

4,00

-

8,99

968

27500

385

83

126

Wybierz

137

KM900/5,5-6/12

5,50

-

12,03

968

36000

450

83

136

Wybierz

138

KM900/7,5-6/12

7,50

-

15,38

970

44100

510

84

189

Wybierz

139

KM900/11,0-6/12

11,00

-

21,98

970

51600

507

85

211

Wybierz

140

KM900/15,0-4/12

15,00

-

27,34

1465

44800

908

93

219

Wybierz

141

KM900/18,5-4/12

18,50

-

33,53

1470

51000

975

93

258

Wybierz

142

KM900/22,0-4/12

22,00

-

39,7

1470

57500

1080

94

286

Wybierz

143

KM900/30,0-4/12

30,00

-

53,79

1475

70800

1235

96

361

Wybierz

144

KM1000/5,5-6/12

5,50

-

12,03

968

38050

512

84

143

Wybierz

145

KM1000/7,5-6/12

7,50

-

15,38

970

45000

535

85

196

Wybierz

146

KM1000/11,0-6/12

11,00

-

21,98

970

57000

520

85

218

Wybierz

147

KM1000/15,0-4/12

15,00

-

27,34

1465

50820

1005

94

226

Wybierz

148

KM1000/18,5-4/12

18,50

-

33,53

1470

54250

1150

95

265

Wybierz

149

KM1000/22,0-4/12

22,00

-

39,7

1470

63060

1260

95

293

Wybierz

150

KM1000/30,0-4/12

30,00

-

53,79

1475

75300

1265

96

368

Wybierz

151

KM1000/37,0-4/12

37,00

-

66,13

1485

88000

1380

96

412

Wybierz

152

KM1000/45,0-4/12

45,00

-

80,18

1485

99500

1295

98

447

Wybierz
Dimensions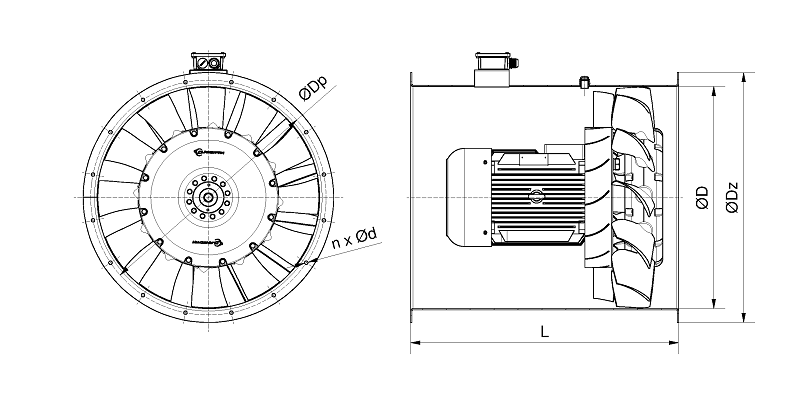 | Catalogue number | Fan | D | L | ØDp | ØDz | n x Ød |
| --- | --- | --- | --- | --- | --- | --- |
| 100 | KM400/0,25-4/9 | 400 | 450 | 460 | 490 | 12x14 |
| 101 | KM400/0,37-4/9 | 400 | 450 | 460 | 490 | 12x14 |
| 102 | KM400/1,5-2/9 | 400 | 500 | 460 | 490 | 12x14 |
| 103 | KM400/2,2-2/9 | 400 | 500 | 460 | 490 | 12x14 |
| 104 | KM400/3,0-2/9 | 400 | 560 | 460 | 490 | 12x14 |
| 105 | KM450/0,37-4/9 | 450 | 450 | 510 | 540 | 12x14 |
| 106 | KM450/0,55-4/9 | 450 | 450 | 510 | 540 | 12x14 |
| 107 | KM450/0,75-4/9 | 450 | 450 | 510 | 540 | 12x14 |
| 108 | KM450/2,2-2/9 | 450 | 500 | 510 | 540 | 12x14 |
| 109 | KM450/3,0-2/9 | 450 | 560 | 510 | 540 | 12x14 |
| 110 | KM450/4,0-2/9 | 450 | 560 | 510 | 540 | 12x14 |
| 111 | KM500/0,75-4/12 | 500 | 500 | 560 | 590 | 12x14 |
| 112 | KM500/1,1-4/12 | 500 | 560 | 560 | 590 | 12x14 |
| 113 | KM500/5,5-2/12 | 500 | 690 | 560 | 590 | 12x14 |
| 114 | KM500/7,5-2/12 | 500 | 690 | 560 | 590 | 12x14 |
| 115 | KM500/11,0-2/12 | 500 | 800 | 560 | 590 | 12x14 |
| 116 | KM560/1,1-4/12 | 560 | 560 | 620 | 650 | 12x14 |
| 117 | KM560/1,5-4/12 | 560 | 560 | 620 | 650 | 12x14 |
| 118 | KM560/2,2-4/12 | 560 | 620 | 620 | 650 | 12x14 |
| 119 | KM560/3,0-4/12 | 560 | 620 | 620 | 650 | 12x14 |
| 120 | KM560/11,0-2/12 | 560 | 800 | 620 | 650 | 12x14 |
| 121 | KM630/2,2-4/12 | 630 | 690 | 690 | 720 | 16x14 |
| 122 | KM630/3,0-4/12 | 630 | 690 | 690 | 720 | 16x14 |
| 123 | KM630/4,0-4/12 | 630 | 690 | 690 | 720 | 16x14 |
| 124 | KM630/18,5-2/12 | 630 | 890 | 690 | 720 | 16x14 |
| 125 | KM630/22,0-2/12 | 630 | 900 | 690 | 720 | 16x14 |
| 126 | KM710/4,0-4/12 | 710 | 660 | 770 | 800 | 16x14 |
| 127 | KM710/5,5-4/12 | 710 | 690 | 770 | 800 | 16x14 |
| 128 | KM710/7,5-4/12 | 710 | 800 | 770 | 800 | 16x14 |
| 129 | KM710/9,2-4/12 | 710 | 800 | 770 | 800 | 16x14 |
| 130 | KM800/2,2-6/12 | 800 | 660 | 860 | 890 | 16x14 |
| 131 | KM800/3,0-6/12 | 800 | 690 | 860 | 890 | 16x14 |
| 132 | KM800/4,0-6/12 | 800 | 800 | 860 | 890 | 16x14 |
| 133 | KM800/7,5-4/12 | 800 | 800 | 860 | 890 | 16x14 |
| 134 | KM800/9,2-4/12 | 800 | 800 | 860 | 890 | 16x14 |
| 135 | KM800/11,0-4/12 | 800 | 860 | 860 | 890 | 16x14 |
| 136 | KM900/4,0-6/12 | 900 | 800 | 960 | 990 | 16x14 |
| 137 | KM900/5,5-6/12 | 900 | 800 | 960 | 990 | 16x14 |
| 138 | KM900/7,5-6/12 | 900 | 860 | 960 | 990 | 16x14 |
| 139 | KM900/11,0-6/12 | 900 | 900 | 960 | 990 | 16x14 |
| 140 | KM900/15,0-4/12 | 900 | 900 | 960 | 990 | 16x14 |
| 141 | KM900/18,5-4/12 | 900 | 900 | 960 | 990 | 16x14 |
| 142 | KM900/22,0-4/12 | 900 | 1000 | 960 | 990 | 16x14 |
| 143 | KM900/30,0-4/12 | 900 | 1000 | 960 | 990 | 16x14 |
| 144 | KM1000/5,5-6/12 | 1000 | 800 | 1050 | 1090 | 16x14 |
| 145 | KM1000/7,5-6/12 | 1000 | 900 | 1050 | 1090 | 16x14 |
| 146 | KM1000/11,0-6/12 | 1000 | 900 | 1050 | 1090 | 16x14 |
| 147 | KM1000/15,0-4/12 | 1000 | 900 | 1050 | 1090 | 16x14 |
| 148 | KM1000/18,5-4/12 | 1000 | 900 | 1050 | 1090 | 16x14 |
| 149 | KM1000/22,0-4/12 | 1000 | 1000 | 1050 | 1090 | 16x14 |
| 150 | KM1000/30,0-4/12 | 1000 | 1000 | 1050 | 1090 | 16x14 |
| 151 | KM1000/37,0-4/12 | 1000 | 1050 | 1050 | 1090 | 16x14 |
| 152 | KM1000/45,0-4/12 | 1000 | 1050 | 1050 | 1090 | 16x14 |