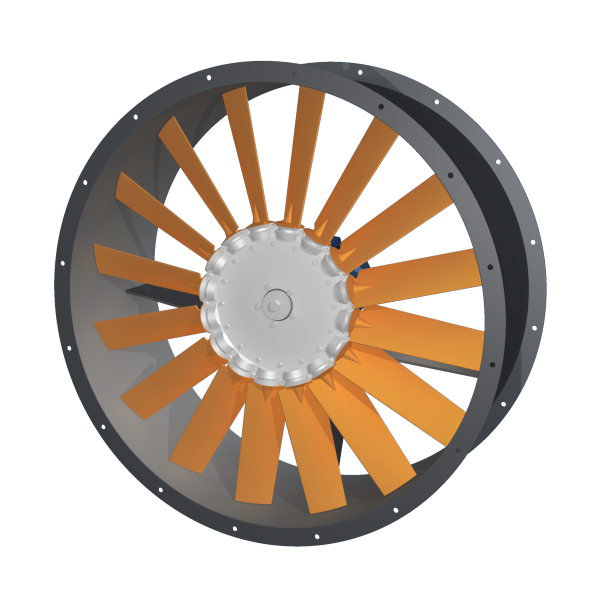 Axial duct fans. Standard low-pressure fans popular in most duct ventilation systems. Planetfan produces the largest range of duct fans manufactured in Poland in terms of available diameters.
Standard diameter range: 280 – 2000mm (largest in Poland Manufactured by machine).
Operating temperatures: -20 to +55°C
Rotor material: blades – glass fibre reinforced polypropylene, hub – aluminium.
Installed motor powers: 0.25 – 30kW
Motor speeds: 3000, 1500, 1000 min-1
Motors fitted with closed bearings, maintenance-free.
Motors adapted as standard for speed control by means of a frequency converter.
Steel enclosures,
Corrosion-protected housings – powder coating.
Special executions:
explosion-proof (KEX series),
high-temperature temp. max: 105°C (HT series),
high temperature max: 135°C (135HT series),
Rotor:
Blades made of glass fibre reinforced polypropylene, hub made of die-cast aluminiumm
High flow capacity in the low pressure range
Dynamically balanced to class G-6.3 in accordance with ISO 1940-1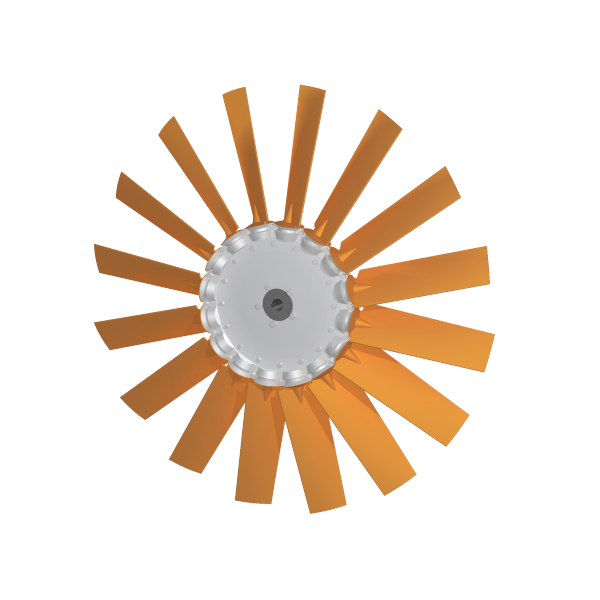 Asynchronous 1 or 3 phase;
Supply voltage: 1~ 230V; 3~ 230/400V; 400/690V
Efficiency class : IE3
Insulation class: F
Degree of protection: IP 55,
Motor body in cast aluminium or cast iron.
Motor optional execution:
Supply voltage: 440V, 460V, 500V, 1000V
Supply frequency: 60Hz,
Efficiency class: IE4,
Motor insulation class: H,
Degree of protection: IP 56, IP66,
Winding temperature sensors,
Bearing temperature sensors.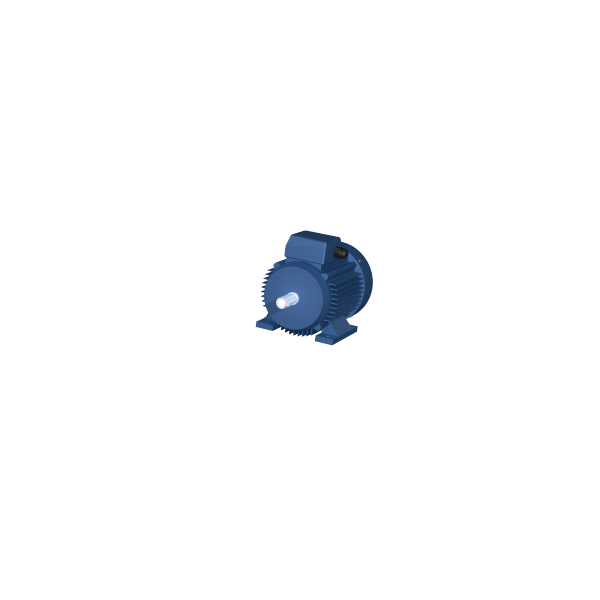 Housing:
Machined from structural sheet steel. Fitted on both sides with flanges rolled from the casing shell and provided with connection holes.
Equipped with bolted or welded motor shelf.
Protected against corrosion by powder coating. Painted in colour: RAL 9005 (black).
Housing optional:
Corrosion protection by hot-dip galvanising,
Enclosure in stainless steel, grade 1.4301
Aluminium enclosure,
Inspection hatch.
Painted in a different RAL colour,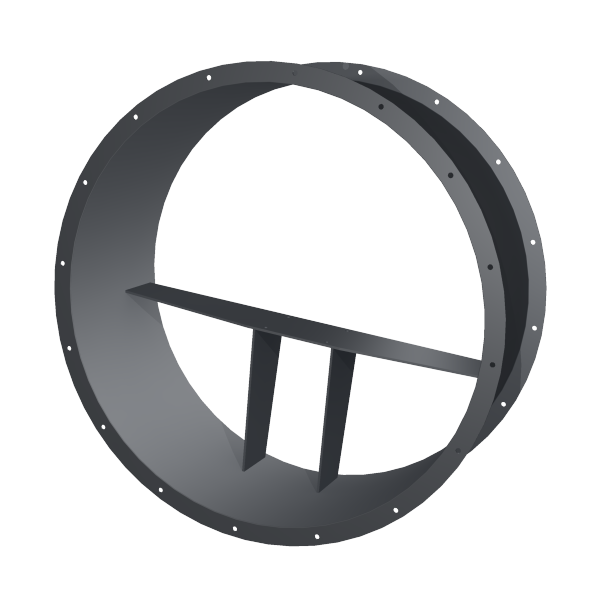 Specification
Nr
kat.
Type
fan
Motor power [kW]
Current at 1~230V [A]
Current at 3~400V [A]
Speed [min -1]
Maximum capacity [m3/h]
Maximum total pressure [Pa]
Sound level [dB(A)]*
Mass [kg]**
300
K315/0,75-2/6
0,75
-
1,64
2880
4987
315
67
17

Wybierz

301
K355/0,55-2/6
0,55
3,1
-
2870
4928
315
64
18

Wybierz

302
K355/0,75-2/6
0,75
-
1,64
2880
5797
340
66
18

Wybierz

303
K355/1,1-2/6
1,10
-
2,31
2880
6665
360
68
22

Wybierz

304
K400/0,37-4/8
0,37
2,2
-
1440
6107
115
59
20

Wybierz

305
K400/0,55-2/3
0,55
3,1
-
2870
5910
245
61
20

Wybierz

306
K400/0,75-2/3
0,75
-
1,64
2880
7700
275
63
20

Wybierz

307
K400/1,1-2/6
1,1
-
2,31
2880
6796
388
66
21

Wybierz

308
K400/1,5-2/6
1,5
-
3,06
2895
8168
425
68
25

Wybierz

309
K450/0,25-4/6
0,25
1,5
-
1420
5428
120
55
21

Wybierz

310
K450/0,37-4/6
0,37
2,2
-
1440
7225
120
58
21

Wybierz

311
K450/0,55-4/8
0,55
3
-
1430
8557
140
62
23

Wybierz

312
K450/0,75-2/3
0,75
-
1,64
2880
7943
307
62
21

Wybierz

313
K450/1,1-2/4
1,1
-
2,31
2880
9193
417
67
22

Wybierz

314
K450/1,5-2/4
1,5
-
3,06
2895
10529
432
67
27

Wybierz

315
K450/2,2-2/5
2,2
-
4,35
2895
11167
537
72
31

Wybierz

316
K450/3,0-2/8
3
-
5,71
2895
13286
584
74
37

Wybierz

317
K500/0,25-4/8
0,25
1,5
-
1420
6028
148
57
24

Wybierz

318
K500/0,37-4/6
0,37
2,2
-
1440
8330
140
59
24

Wybierz

319
K500/0,55-4/8
0,55
3
-
1430
8765
155
61
26

Wybierz

320
K500/0,75-4/8
0,75
-
1,75
1420
9902
154
62
28

Wybierz

321
K500/1,1-2/6
1,1
-
2,31
2880
9348
556
67
25

Wybierz

322
K500/1,5-2/6
1,5
-
3,06
2895
12188
495
69
29

Wybierz

323
K500/2,2-2/4
2,2
-
4,35
2895
13480
450
69
33

Wybierz

324
K500/3,0-2/8
3
-
5,71
2895
14867
580
74
40

Wybierz

325
K560/0,37-4/8
0,37
2,2
-
1440
8097
188
58
27

Wybierz

326
K560/0,55-4/6
0,55
3
-
1430
10615
155
60
28

Wybierz

327
K560/0,75-4/8
0,75
-
1,75
1420
11500
203
62
30

Wybierz

328
K560/1,1-4/8
1,1
-
2,48
1445
15331
210
65
34

Wybierz

329
K560/1,5-2/3
1,5
-
3,06
2895
14492
379
66
32

Wybierz

330
K560/2,2-2/4
2,2
-
4,35
2895
15556
495
68
36

Wybierz

331
K560/3,0-2/8
3
-
5,71
2895
16279
760
73
43

Wybierz

332
K630/0,55-4/6
0,55
3
-
1430
11194
186
61
39

Wybierz

333
K630/0,75-4/8
0,75
-
1,75
1420
12270
190
63
40

Wybierz

334
K630/1,1-4/6
1,1
-
2,48
1445
14968
209
65
44

Wybierz

335
K630/1,5-4/5
1,5
-
3,3
1445
17059
230
67
49

Wybierz

336
K630/2,2-4/10
2,2
-
4,52
1435
18652
238
71
55

Wybierz

337
K630/3,0-2/4
3
-
5,71
2895
18815
530
72
52

Wybierz

338
K710/0,75-6/9
0,75
-
1,93
935
14883
147
57
50

Wybierz

339
K710/0,55-4/10
0,55
3
-
1430
9072
194
56
46

Wybierz

340
K710/0,75-4/7
0,75
-
1,75
1420
12067
207
56
47

Wybierz

341
K710/1,1-4/9
1,1
-
2,48
1445
11687
330
61
52

Wybierz

342
K710/1,5-4/5
1,5
-
3,3
1445
18852
255
60
55

Wybierz

343
K710/2,2-4/5
2,2
-
4,52
1435
22703
252
62
61

Wybierz

344
K710/3,0-4/9
3
-
6,02
1435
24580
350
67
62

Wybierz

345
K710/4,0-4/9
4
-
7,95
1440
29129
355
69
74

Wybierz

346
K800/0,75-6/6
0,75
-
1,93
935
16953
143
58
53

Wybierz

347
K800/1,1-4/4
1,1
-
2,48
1445
18220
263
63
54

Wybierz

348
K800/1,5-4/5
1,5
-
3,3
1445
20535
243
63
59

Wybierz

349
K800/2,2-4/5
2,2
-
4,52
1435
26006
292
66
65

Wybierz

350
K800/3,0-4/6
3
-
6,02
1435
28063
328
69
66

Wybierz

351
K800/4,0-4/6
4
-
7,95
1440
32080
347
70
78

Wybierz

352
K800/5,5-4/9
5,5
-
10,68
1460
36505
430
66
89

Wybierz

353
K800/7,5-4/9
7,5
-
14,26
1460
41024
425
75
101

Wybierz

354
K900/0,75-6/5
0,75
-
1,93
935
21099
120
58
57

Wybierz

355
K900/1,1-6/5
1,1
-
2,69
945
25605
150
61
62

Wybierz

356
K900/1,5-6/5
1,5
-
3,6
949
27402
160
63
76

Wybierz

357
K900/2,2-4/5
2,2
-
4,52
1435
28730
325
67
72

Wybierz

358
K900/3,0-4/5
3
-
6,02
1435
35632
360
68
73

Wybierz

359
K900/4,0-4/6
4
-
7,95
1440
37918
418
72
85

Wybierz

360
K900/5,5-4/6
5,5
-
10,68
1460
44222
455
75
96

Wybierz

361
K900/7,5-4/6
7,5
-
14,26
1460
46367
432
74
108

Wybierz

362
K1000/1,5-6/9
1,5
-
3,6
949
25731
200
66
82

Wybierz

363
K1000/2,2-6/9
2,2
-
5,09
955
32530
245
68
85

Wybierz

364
K1000/3,0-4/5
3
-
6,02
1435
33356
310
69
76

Wybierz

365
K1000/4,0-4/5
4
-
7,95
1440
38298
350
71
88

Wybierz

366
K1000/5,5-4/9
5,5
-
10,68
1460
39586
475
76
100

Wybierz

367
K1000/7,5-4/9
7,5
-
14,26
1460
45193
512
77
112

Wybierz

368
K1000/11,0-4/9
11
-
20,44
1465
60000
507
79
195

Wybierz

369
K1000/15,0-4/9
15
-
27,34
1465
70435
520
81
219

Wybierz

370
K1000/18,5-4/9
18,5
-
33,53
1470
79175
515
84
273

Wybierz

371
K1120/3,0-6/6
3
-
6,84
968
39400
340
75
115

Wybierz

372
K1120/4,0-6/6
4
-
8,99
968
48100
330
74
125

Wybierz

373
K1120/5,5-6/6
5,5
-
12,03
968
53400
380
76
134

Wybierz

374
K1120/7,5-6/6
7,5
-
15,38
970
55200
380
75
218

Wybierz

375
K1120/11,0-6/6
11
-
21,98
970
65100
415
81
242

Wybierz

376
K1120/7,5-4/6
7,5
-
14,26
1460
49000
900
83
135

Wybierz

377
K1120/11,0-4/6
11
-
20,44
1465
67600
760
83
226

Wybierz

378
K1120/15,0-4/6
15
-
27,34
1465
75500
750
84
250

Wybierz

379
K1250/3,0-6/3
3
-
6,84
968
52000
250
80
141

Wybierz

380
K1250/4,0-6/3
4
-
8,99
968
58300
260
81
151

Wybierz

381
K1250/5,5-6/5
5,5
-
12,03
968
62900
355
74
164

Wybierz

382
K1250/7,5-6/6
7,5
-
15,38
970
68500
415
82
248

Wybierz

383
K1250/11,0-6/6
11
-
21,98
970
84500
400
79
278

Wybierz

384
K1250/15,0-6/6
15
-
29,31
978
96100
385
80
362

Wybierz

385
K1250/15,0-4/3
15
-
27,34
1465
98300
450
84
284

Wybierz

386
K1250/18,5-4/3
18,5
-
33,53
1470
104000
820
82
346

Wybierz

387
K1400/7,5-6/6
7,5
-
15,38
970
62500
415
72
318

Wybierz

388
K1400/11,0-6/6
11
-
21,98
970
79500
530
72
340

Wybierz

389
K1400/4,0-8/6
4
-
9,3
705
57700
280
68
291

Wybierz

390
K1400/5,5-8/6
5,5
-
12,8
710
64500
305
69
301

Wybierz

391
K1400/7,5-8/6
7,5
-
16,4
705
76300
330
70
321

Wybierz

392
K1400/11,0-8/6
11
23,5
730
95000
378
72
379

Wybierz

393
K1600/5,5-8/6
5,5
-
12,8
710
72300
390
70
328

Wybierz

394
K1600/7,5-8/6
7,5
-
16,4
705
88500
385
71
348

Wybierz

395
K1600/11,0-8/6
11
-
23,5
730
103400
435
74
398

Wybierz

396
K1600/15,0-8/6
15
29
733
120000
455
76
488

Wybierz

397
K1600/22,0-8/6
22
44
735
151500
477
77
548

Wybierz

398
K1600/7,5-10/6
7,5
-
18,7
580
93200
285
69
473

Wybierz

399
K1600/11,0-10/6
11
-
26,7
590
115000
310
71
488

Wybierz

400
K1600/13,0-10/6
13
-
31
592
128000
312
73
513

Wybierz

401
K1800/7,5-8/6
7,5
-
16,4
705
89000
542
71
376

Wybierz

402
K1800/11,0-8/6
11
-
23,5
730
109500
670
74
426

Wybierz

403
K1800/15,0-8/6
15
-
29
733
127000
650
76
516

Wybierz

404
K1800/18,5-8/6
18,5
-
37
735
139000
635
77
541

Wybierz

405
K1800/7,5-10/6
7,5
-
18,7
580
101000
407
70
501

Wybierz

406
K1800/11-10/6
11
-
26,7
590
125700
392
72
516

Wybierz

407
K1800/13-10/6
13
-
31
592
136000
384
73
541

Wybierz

408
K1800/15-10/6
15
-
36,5
590
147500
380
74
576

Wybierz

409
K1800/22-10/6
22
-
50
592
179900
391
75
691

Wybierz

410
K2000/7,5-10/6
7,5
-
18,7
580
120000
380
71
529

Wybierz

411
K2000/11-10/6
11
-
26,7
590
136700
394
72
544

Wybierz

412
K2000/13-10/6
13
-
31
592
148000
398
74
569

Wybierz

413
K2000/15-10/6
15
-
36,5
590
161000
397
75
604

Wybierz

414
K2000/22-10/6
22
-
50
592
197000
423
76
719

Wybierz

415
K2000/30-10/6
30
-
69
586
237000
414
77
814

Wybierz
Dimensions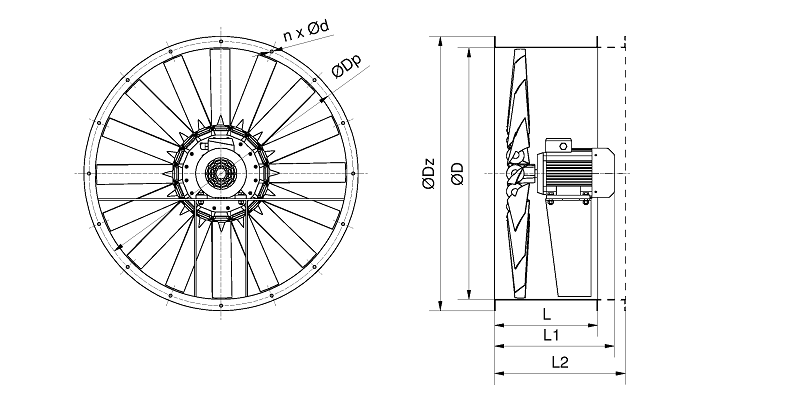 | Catalogue number | Fan type | D | L | L1 | Ld | ØDp | ØDz | n x Ød |
| --- | --- | --- | --- | --- | --- | --- | --- | --- |
| 300 | K315/0,75-2/6 | 315 | 300 | 393 | 410 | 365 | 405 | 8x10 |
| 301 | K355/0,55-2/6 | 355 | 325 | 408 | 410 | 405 | 445 | 8x10 |
| 302 | K355/0,75-2/6 | 355 | 325 | 408 | 410 | 405 | 445 | 8x10 |
| 303 | K355/1,1-2/6 | 355 | 325 | 408 | 410 | 405 | 445 | 8x10 |
| 304 | K400/0,37-4/8 | 400 | 350 | 459 | 510 | 450 | 490 | 12x10 |
| 305 | K400/0,55-2/3 | 400 | 350 | 459 | 510 | 450 | 490 | 12x10 |
| 306 | K400/0,75-2/3 | 400 | 350 | 459 | 510 | 450 | 490 | 12x10 |
| 307 | K400/1,1-2/6 | 400 | 350 | 459 | 510 | 450 | 490 | 12x10 |
| 308 | K400/1,5-2/6 | 400 | 350 | 459 | 510 | 450 | 490 | 12x10 |
| 309 | K450/0,25-4/6 | 450 | 350 | 459 | 510 | 500 | 540 | 12x10 |
| 310 | K450/0,37-4/6 | 450 | 350 | 459 | 510 | 500 | 540 | 12x10 |
| 311 | K450/0,55-4/8 | 450 | 350 | 459 | 510 | 500 | 540 | 12x10 |
| 312 | K450/0,75-2/3 | 450 | 350 | 459 | 510 | 500 | 540 | 12x10 |
| 313 | K450/1,1-2/4 | 450 | 350 | 459 | 510 | 500 | 540 | 12x10 |
| 314 | K450/1,5-2/4 | 450 | 350 | 459 | 510 | 500 | 540 | 12x10 |
| 315 | K450/2,2-2/5 | 450 | 350 | 459 | 510 | 500 | 540 | 12x10 |
| 316 | K450/3,0-2/8 | 450 | 350 | 459 | 510 | 500 | 540 | 12x10 |
| 317 | K500/0,25-4/8 | 500 | 400 | 484 | 525 | 550 | 590 | 12x10 |
| 318 | K500/0,37-4/6 | 500 | 400 | 484 | 525 | 550 | 590 | 12x10 |
| 319 | K500/0,55-4/8 | 500 | 400 | 484 | 525 | 550 | 590 | 12x10 |
| 320 | K500/0,75-4/8 | 500 | 400 | 484 | 525 | 550 | 590 | 12x10 |
| 321 | K500/1,1-2/6 | 500 | 400 | 484 | 525 | 550 | 590 | 12x10 |
| 322 | K500/1,5-2/6 | 500 | 400 | 484 | 525 | 550 | 590 | 12x10 |
| 323 | K500/2,2-2/4 | 500 | 400 | 484 | 525 | 550 | 590 | 12x10 |
| 324 | K500/3,0-2/8 | 500 | 400 | 484 | 525 | 550 | 590 | 12x10 |
| 325 | K560/0,37-4/8 | 560 | 400 | 484 | 525 | 610 | 650 | 12x12 |
| 326 | K560/0,55-4/6 | 560 | 400 | 484 | 525 | 610 | 650 | 12x12 |
| 327 | K560/0,75-4/8 | 560 | 400 | 484 | 525 | 610 | 650 | 12x12 |
| 328 | K560/1,1-4/8 | 560 | 400 | 484 | 525 | 610 | 650 | 12x12 |
| 329 | K560/1,5-2/3 | 560 | 400 | 484 | 525 | 610 | 650 | 12x12 |
| 330 | K560/2,2-2/4 | 560 | 400 | 484 | 525 | 610 | 650 | 12x12 |
| 331 | K560/3,0-2/8 | 560 | 400 | 484 | 525 | 610 | 650 | 12x12 |
| 332 | K630/0,55-4/6 | 630 | 400 | 484 | 525 | 680 | 720 | 12x12 |
| 333 | K630/0,75-4/8 | 630 | 400 | 484 | 525 | 680 | 720 | 12x12 |
| 334 | K630/1,1-4/6 | 630 | 400 | 484 | 525 | 680 | 720 | 12x12 |
| 335 | K630/1,5-4/5 | 630 | 400 | 484 | 525 | 680 | 720 | 12x12 |
| 336 | K630/2,2-4/10 | 630 | 400 | 484 | 525 | 680 | 720 | 12x12 |
| 337 | K630/3,0-2/4 | 630 | 400 | 484 | 525 | 680 | 720 | 12x12 |
| 338 | K710/0,75-6/9 | 710 | 410 | 495 | 525 | 760 | 800 | 12x12 |
| 339 | K710/0,55-4/10 | 710 | 410 | 495 | 525 | 760 | 800 | 12x12 |
| 340 | K710/0,75-4/7 | 710 | 410 | 495 | 525 | 760 | 800 | 12x12 |
| 341 | K710/1,1-4/9 | 710 | 410 | 495 | 525 | 760 | 800 | 12x12 |
| 342 | K710/1,5-4/5 | 710 | 410 | 495 | 525 | 760 | 800 | 12x12 |
| 343 | K710/2,2-4/5 | 710 | 410 | 495 | 525 | 760 | 800 | 12x12 |
| 344 | K710/3,0-4/9 | 710 | 410 | 495 | 525 | 760 | 800 | 12x12 |
| 345 | K710/4,0-4/9 | 710 | 410 | 495 | 525 | 760 | 800 | 12x12 |
| 346 | K800/0,75-6/6 | 800 | 410 | 447 | 525 | 850 | 890 | 16x12 |
| 347 | K800/1,1-4/4 | 800 | 410 | 447 | 525 | 850 | 890 | 16x12 |
| 348 | K800/1,5-4/5 | 800 | 410 | 475 | 525 | 850 | 890 | 16x12 |
| 349 | K800/2,2-4/5 | 800 | 410 | 486 | 525 | 850 | 890 | 16x12 |
| 350 | K800/3,0-4/6 | 800 | 410 | 486 | 525 | 850 | 890 | 16x12 |
| 351 | K800/4,0-4/6 | 800 | 410 | 495 | 525 | 850 | 890 | 16x12 |
| 352 | K800/5,5-4/9 | 800 | 410 | 573 | 640 | 850 | 890 | 16x12 |
| 353 | K800/7,5-4/9 | 800 | 410 | 601 | 640 | 850 | 890 | 16x12 |
| 354 | K900/0,75-6/5 | 900 | 410 | 447 | 525 | 950 | 990 | 16x12 |
| 355 | K900/1,1-6/5 | 900 | 410 | 475 | 525 | 950 | 990 | 16x12 |
| 356 | K900/1,5-6/5 | 900 | 410 | 496 | 525 | 950 | 990 | 16x12 |
| 357 | K900/2,2-4/5 | 900 | 410 | 486 | 525 | 950 | 990 | 16x12 |
| 358 | K900/3,0-4/5 | 900 | 410 | 486 | 525 | 950 | 990 | 16x12 |
| 359 | K900/4,0-4/6 | 900 | 410 | 495 | 525 | 950 | 990 | 16x12 |
| 360 | K900/5,5-4/6 | 900 | 410 | 563 | 640 | 950 | 990 | 16x12 |
| 361 | K900/7,5-4/6 | 900 | 410 | 601 | 640 | 950 | 990 | 16x12 |
| 362 | K1000/1,5-6/9 | 1000 | 410 | 496 | 525 | 1050 | 1090 | 16x12 |
| 363 | K1000/2,2-6/9 | 1000 | 410 | 505 | 525 | 1050 | 1090 | 16x12 |
| 364 | K1000/3,0-4/5 | 1000 | 410 | 486 | 525 | 1050 | 1090 | 16x12 |
| 365 | K1000/4,0-4/5 | 1000 | 410 | 495 | 525 | 1050 | 1090 | 16x12 |
| 366 | K1000/5,5-4/9 | 1000 | 410 | 563 | 640 | 1050 | 1090 | 16x12 |
| 367 | K1000/7,5-4/9 | 1000 | 410 | 601 | 640 | 1050 | 1090 | 16x12 |
| 368 | K1000/11,0-4/9 | 1000 | 600 | 740 | 800 | 1050 | 1090 | 16x12 |
| 369 | K1000/15,0-4/9 | 1000 | 600 | 756 | 800 | 1050 | 1090 | 16x12 |
| 370 | K1000/18,5-4/9 | 1000 | 650 | 827 | 900 | 1050 | 1090 | 16x12 |
| 371 | K1120/3,0-6/6 | 1120 | 410 | 536 | 640 | 1170 | 1210 | 20x12 |
| 372 | K1120/4,0-6/6 | 1120 | 410 | 601 | 640 | 1170 | 1210 | 20x12 |
| 373 | K1120/5,5-6/6 | 1120 | 410 | 601 | 640 | 1170 | 1210 | 20x12 |
| 374 | K1120/7,5-6/6 | 1120 | 410 | 740 | 800 | 1170 | 1210 | 20x12 |
| 375 | K1120/11,0-6/6 | 1120 | 410 | 756 | 800 | 1170 | 1210 | 20x12 |
| 376 | K1120/7,5-4/6 | 1120 | 410 | 601 | 640 | 1170 | 1210 | 20x12 |
| 377 | K1120/11,0-4/6 | 1120 | 410 | 740 | 800 | 1170 | 1210 | 20x12 |
| 378 | K1120/15,0-4/6 | 1120 | 410 | 756 | 800 | 1170 | 1210 | 20x12 |
| 379 | K1250/3,0-6/3 | 1250 | 410 | 495 | 525 | 1300 | 1340 | 20x14 |
| 380 | K1250/4,0-6/3 | 1250 | 410 | 756 | 800 | 1300 | 1340 | 20x14 |
| 381 | K1250/5,5-6/5 | 1250 | 410 | 756 | 800 | 1300 | 1340 | 20x14 |
| 382 | K1250/7,5-6/6 | 1250 | 600 | 740 | 800 | 1300 | 1340 | 20x14 |
| 383 | K1250/11,0-6/6 | 1250 | 600 | 756 | 800 | 1300 | 1340 | 20x14 |
| 384 | K1250/15,0-6/6 | 1250 | 650 | 867 | 900 | 1300 | 1340 | 20x14 |
| 385 | K1250/15,0-4/3 | 1250 | 600 | 756 | 800 | 1300 | 1340 | 20x14 |
| 386 | K1250/18,5-4/3 | 1250 | 650 | 827 | 900 | 1300 | 1340 | 20x14 |
| 387 | K1400/7,5-6/6 | 1400 | 500 | 919 | 1000 | 1487 | 1530 | 20x14 |
| 388 | K1400/11,0-6/6 | 1400 | 560 | 1023 | 1100 | 1487 | 1530 | 20x14 |
| 389 | K1400/4,0-8/6 | 1400 | 500 | 942 | 1000 | 1487 | 1530 | 20x14 |
| 390 | K1400/5,5-8/6 | 1400 | 500 | 942 | 1000 | 1487 | 1530 | 20x14 |
| 391 | K1400/7,5-8/6 | 1400 | 500 | 986 | 1050 | 1487 | 1530 | 20x14 |
| 392 | K1400/11,0-8/6 | 1400 | 500 | 1035 | 1050 | 1487 | 1530 | 20x14 |
| 393 | K1600/5,5-8/6 | 1600 | 500 | 942 | 1000 | 1687 | 1730 | 24x14 |
| 394 | K1600/7,5-8/6 | 1600 | 500 | 986 | 1050 | 1687 | 1730 | 24x14 |
| 395 | K1600/11,0-8/6 | 1600 | 560 | 1046 | 1100 | 1687 | 1730 | 24x14 |
| 396 | K1600/15,0-8/6 | 1600 | 560 | 1215 | 1250 | 1687 | 1730 | 24x14 |
| 397 | K1600/22,0-8/6 | 1600 | 560 | 1280 | 1350 | 1687 | 1730 | 24x14 |
| 398 | K1600/7,5-10/6 | 1600 | 500 | 1155 | 1200 | 1687 | 1730 | 24x14 |
| 399 | K1600/11,0-10/6 | 1600 | 560 | 1215 | 1300 | 1687 | 1730 | 24x14 |
| 400 | K1600/13,0-10/6 | 1600 | 560 | 1255 | 1300 | 1687 | 1730 | 24x14 |
| 401 | K1800/7,5-8/6 | 1800 | 500 | 986 | 1050 | 1887 | 1930 | 24x18 |
| 402 | K1800/11,0-8/6 | 1800 | 560 | 1046 | 1100 | 1887 | 1930 | 24x18 |
| 403 | K1800/15,0-8/6 | 1800 | 600 | 1255 | 1300 | 1887 | 1930 | 24x18 |
| 404 | K1800/18,5-8/6 | 1800 | 600 | 1295 | 1350 | 1887 | 1930 | 24x18 |
| 405 | K1800/7,5-10/6 | 1800 | 500 | 1155 | 1200 | 1887 | 1930 | 24x18 |
| 406 | K1800/11-10/6 | 1800 | 560 | 1215 | 1250 | 1887 | 1930 | 24x18 |
| 407 | K1800/13-10/6 | 1800 | 560 | 1255 | 1300 | 1887 | 1930 | 24x18 |
| 408 | K1800/15-10/6 | 1800 | 600 | 1320 | 1400 | 1887 | 1930 | 24x18 |
| 409 | K1800/22-10/6 | 1800 | 600 | 1395 | 1450 | 1887 | 1930 | 24x18 |
| 410 | K2000/7,5-10/6 | 2000 | 500 | 1155 | 1200 | 2087 | 2130 | 24x18 |
| 411 | K2000/11-10/6 | 2000 | 560 | 1215 | 1300 | 2087 | 2130 | 24x18 |
| 412 | K2000/13-10/6 | 2000 | 600 | 1295 | 1350 | 2087 | 2130 | 24x18 |
| 413 | K2000/15-10/6 | 2000 | 600 | 1320 | 1400 | 2087 | 2130 | 24x18 |
| 414 | K2000/22-10/6 | 2000 | 600 | 1395 | 1450 | 2087 | 2130 | 24x18 |
| 415 | K2000/30-10/6 | 2000 | 600 | 1470 | 1500 | 2087 | 2130 | 24x18 |