Each complete fan consists of the following components:
housing
impeller (hub and blades)
motor
All fans manufactured by Planetfan are marked with nameplates.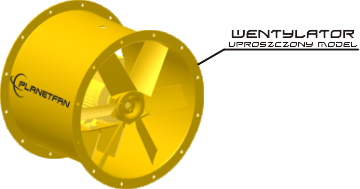 Housing
The housings for the fans we manufacture are made from the following materials:
aluminium sheet,
black steel sheet (painted or galvanised),
stainless steel sheet.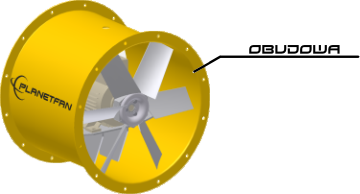 Rotor
The impeller, commonly referred to as the fan propeller, consists of blades mounted in a hub.
Planetfan manufactures impellers with diameters ranging from 260 to 1250mm.
The impellers of all fans are dynamically balanced in accordance with PN-93/N-01359, balance class G-6.3.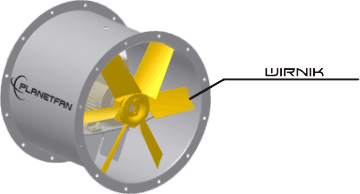 Blades
The blades in the standard design are designed to work in one direction, according to the direction of airflow determined by the customer. Planetfan also offers a reversible vane, the unique shape of which allows it to work both ways.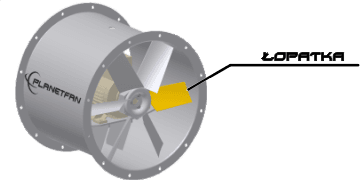 PPG – glass fibre reinforced polypropylene (maximum operating temperature: 80°C),
PAG – glass fibre reinforced polyamide (maximum operating temperature: 120°C),
PAX – polyamide reinforced with glass fibre in an anti-electrostatic, non-flammable version (maximum operating temperature: 120°C),
AL – aluminium (maximum environmental temperature: 150°C).
The blades can be fixed at different angles, which has a direct impact on the fan's flow parameters.
Hub
Hub The hub is located in the central part of the fan. The hubs of our impellers are made of cast aluminium as standard (special versions are made of steel). Depending on the requirements (flow parameters), between 3 and 16 blades are fitted to the hub. In the centre of the hub is a hole by which the rotor is mounted on the motor shaft.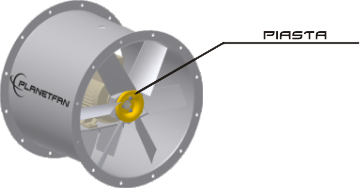 Engine
Planetfan offers both single and two-speed motors. Two-speed motors are used in the case of variable fan operating conditions in order to reduce operating costs to a minimum. Depending on the customer's requirements and the purpose of the fan, we use single-phase (1~230 V) or three-phase (3~400 V) motors. We also offer special motors, i.e: